If you're looking for the absolute best tattoo shop, you'll get what you get at our shop and your friends will marvel at your new masterpiece. Our artists are experienced and passionate about their work, and they strive to provide each customer with a unique and unforgettable experience. Whether you're looking for your first tattoo, a traditional tattoo, or something more modern, we've got you covered. Come see us in Melbourne, FL on W. New Haven Ave. today and get the Rolls Royce of tattoos! Book an Appointment Now!
Get a tattoo in Melbourne FL – We are the Best Tattoo Shop
There are many reasons to get your tattoo with our talented artists. We have a wide variety of designs to choose from and our artists are some of the best in the business. We take pride in our work and want to make sure that you are happy with your tattoo.
There are endless reasons to stop by and enjoy our assortment of highly skilled tattoo artists. Whether you want a small tattoo or a large one, we have something for everyone. Our artists are some of the best in the business. They are talented tattoo artists and can create any design you want. We take pride in our work and want to make sure that you are happy with your tattoo. We will work with you to make sure it is the perfect design.
Getting a custom tattoo with us is a great way to support local businesses. When you get a tattoo at our shop, you are supporting a small business and Melbourne, FL economy. Not only that, we offer competitive prices for our tattoos. We believe that everyone should be able to afford a tattoo, no matter their budget.
Getting a tattoo can be a big decision, and being in the tattoo industry for so long, we know how to make sure that you are comfortable with the process from start to finish. We will answer any questions you have and help you through the entire process. If this is your first tattoo, we are the best place to come out of any other tattoo shops around Indian Harbour Beach. We have a clean and safe environment for our clients, always sterile, and our artists use disposable needles for each client.
Finally, we offer free consultations for all clients before they get their tattoos. This allows us to get to know you and your wants and needs for a tattoo, so that we can create the perfect design for you. Book an appointment and get the tattoo by your preferred artist as soon as the next day.
The Tattoo Experience at our Tattoo Shop
When you come to our tattoo shop on W. New Haven Ave., you can expect a unique and memorable experience. We specialize in custom tattoos, and our artists are skilled in a variety of styles. We take pride in our work, and it shows in the quality of our tattoos.
We believe that getting a tattoo should be a fun and positive experience, so we do everything we can to make our clients comfortable and happy. We take the time to get to know each client and figure out exactly what they want. Then we work with them to create custom tattoos that are perfect for them.
We also offer a range of other services including body piercings. All our tattoo artists are well-versed in the piercing studio and can be considered piercing artists as well. Whether you're looking for a new tattoo or just want to browse, we welcome you to come to hang out with us! We accept walk-ins, but we do recommend that you book an appointment, at least a day prior so that you can get the artist of your choice.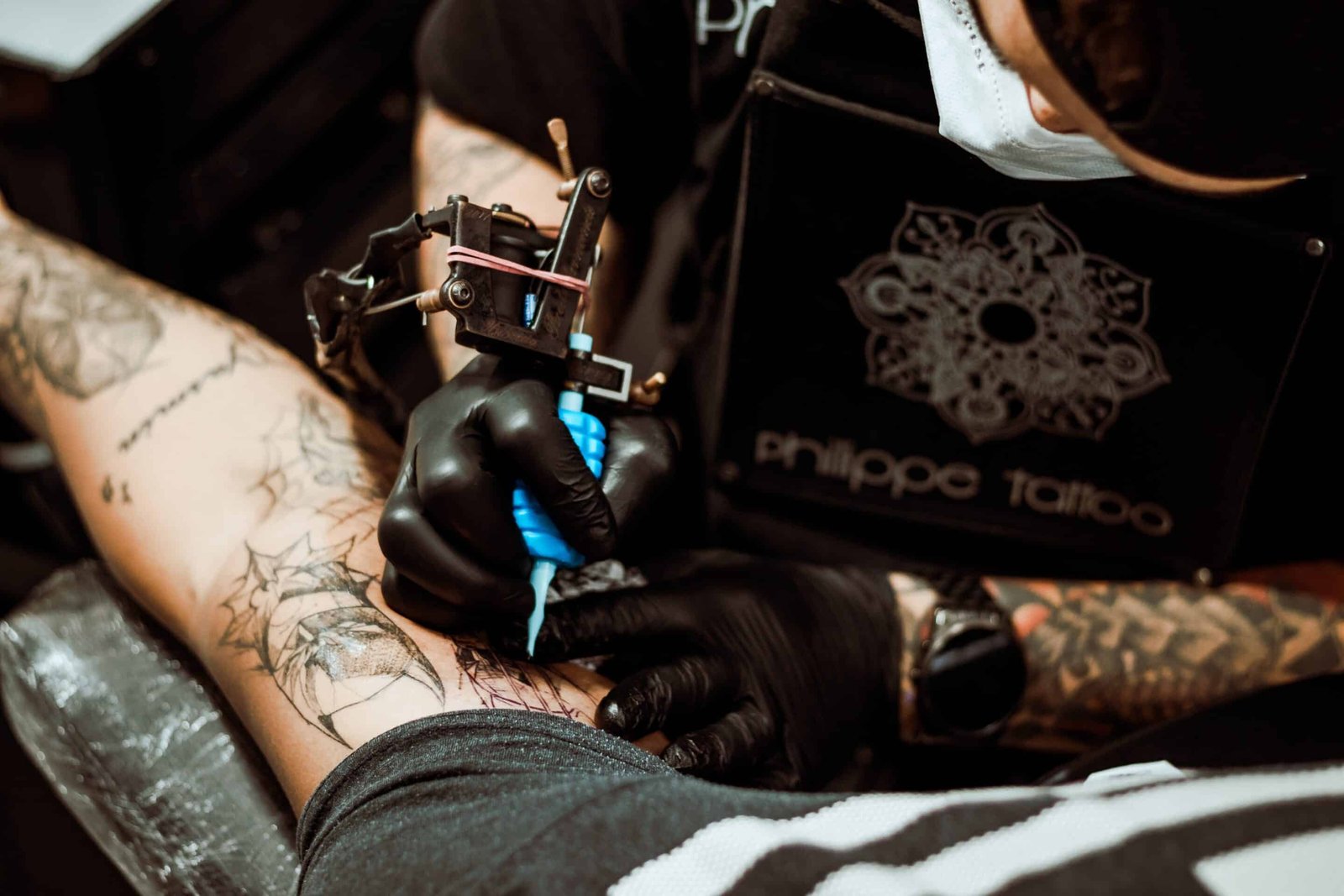 About the Tattoo Artists
Unlike some other tattoo shops that have new artists, we have some of the most talented and skilled tattoo artists in Melbourne, FL. They have years of experience and can create amazing works of art that will last a lifetime. Each artist has their unique style and can custom design tattoos that will suit your taste. Whether you are looking for a small and delicate tattoo or something large and intricate, our artists will be able to provide you with exactly what you are looking for.
If you are unsure of what kind of tattoo you would like, our talented tattoo artists can work with you to come up with a custom design that is perfect for you. They will take into consideration your personal style, interests, and ideas to create a one-of-a-kind tattoo that you will love. Our artists are also experienced in cover-ups and can transform an existing tattoo into something new and beautiful.
Robbie Ripoll
Robbie Ripoll is an internationally renowned, high-quality tattoo artist who produces awe-inspiring works of art on the skin. From New School, Realism, to Surrealism, his pieces are unparalleled in their blend of vibrant colors and undetectable coverups – so much so that many have called him a magician!
Robbie's passion for tattooing has taken him on an incredible journey for over 25 years. From Inkmaster to Inkedmag YouTube fame, his tattoos have won numerous awards and he is truly a remarkable person right here in Melbourne, FL!
Billy Haydock
Billy Haydock's work in Brevard County has been nothing short of remarkable for the last decade. He moved to Florida from California, where he was a sponsored snowboarder and worked with members of legendary punk rockers The Misfits. Now known as a premier tattoo artist in Melbourne, FL, Billy continues to make his mark on this vibrant community – creating unforgettable works that will be remembered forever! Come see what this awesome guy can create. You won't find anyone else like him at other tattoo shops.
Dana Verrier
With over twenty years of experience and some damn impressive black and grey realism tattoo artistry, Dana Verrier is a living legend from the East Coast who's earned his rightful place on our team! His name is synonymous with Brevard County as much for his incredible work as it is for being one of the nicest guys around. From portraits to custom projects – if you're looking for polished ink that will stand out among regular tattoos, then look no further than Dana himself!
Lyndsey "Lyzard" Selby
After a long journey of self-discovery, Lyzard has emerged! Taking her nickname from the many roads she traveled down during 2021, this refreshingly bold individual is redefining art as we know it with her surrealistic funky fun style. Having completed an apprenticeship under Robbie Ripoll in late 2021 and refusing to subscribe to societal norms – Lizard's artistic growth is one worth watching. Her custom tattoos can't be found at any other tattoo shops out there!
Macklin Morano
Macklin Morano has been a fan of tattoos since childhood when members of his family were adorned with artwork by Robbie. For the last two decades, he has not only acquired an impressive collection of body art himself but also undergone some daring modifications – such as implanting a moon-shaped subdermal in his hand and splitting his tongue! As if that weren't enough to appreciate him for; Mack is now an incredible piercing artist too.
When you come in to meet our Rad Ink crew, you can be confident that you are meeting award-winning tattoo artists. Our artists take their time to ensure that each tattoo is done correctly and safely. They will also provide you with aftercare instructions so that your tattoo heals properly and looks its best.
If you are looking for talented and skilled tattoo artists in the area, not far from Harbor City Blvd., look no further than Rad Ink! We have some of the most talented artists around who can provide you with exactly what you are looking for. Whether it is a new tattoo or filling bringing more life to your sleeve, we can master it all!
Out of all the Tattoo Shops, Ours is the Best!
There are many reasons why our tattoo shop is the best in Melbourne, FL. For one, we have some of the most talented and experienced artists in the area. They have years of experience and will create beautiful, unique tattoos that you and your friends will love.
In addition, we use only the highest quality inks and equipment. This ensures that your tattoo will look amazing and last. We also offer different services, each of our crew is a skilled body piercer, so you can get exactly what you want.
Finally, our shop is always clean and welcoming. We want you to feel comfortable when you're here, and our staff is always happy to answer any questions you may have. So if you're looking for a great tattoo shop, look no further than ours!
Don't Hesitate! Enjoy a Tattoo Experience with Us!
If you're looking for a tattoo artist who offers the best experience, tattoos, and attitude, then look no further than our tattoo shop! Our shop is the best in town because we go above and beyond to make sure our clients are happy with their tattoos. We take the time to consult with each client to ensure that they are getting the tattoo they want, and we only use the highest quality ink and equipment. Our artists are some of the most talented in the business, and they're always coming up with new and innovative designs. If you're looking for a custom tattoo, then our shop is the place to go. We have a wide variety of tattoo styles to choose from, so you're sure to find something that you love. Thanks for considering our shop for your next tattoo!
Frequently Asked Questions
What is the difference between a tattoo and a body piercing?
A tattoo is a permanent mark or design on the skin, while a body piercing is a temporary hole in the body for wearing jewelry.
How do I choose a tattoo artist?
There are a few things to consider when choosing a tattoo artist. First, look at their portfolio to get an idea of their style and skill level. Then, set up a consultation to get to know them and see if they're someone you feel comfortable working with.
How much money does it take to get a tattoo?
This is a difficult question to answer as it depends on the size, complexity, and placement of the tattoo. Our artists charge an hourly rate, with most tattoos falling in the $100-$250 per hour range.
What are some risks of getting a tattoo?
Some risks of getting a tattoo include infection, skin irritation, and allergic reactions. However, we are highly skilled in assessing whether someone will have skin reactions, and know how to avoid infections with our sterile and disposable equipment.